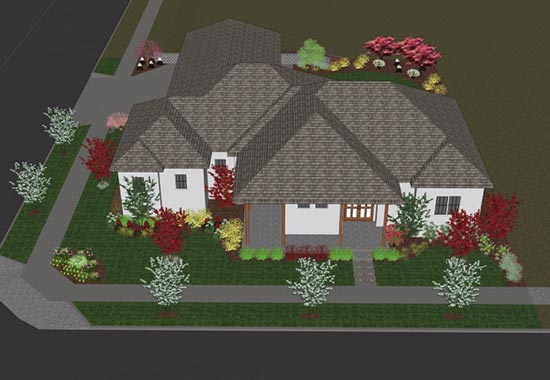 We specialize in creating beautiful and functional outdoor spaces that transform your property into a peaceful oasis.
Our experienced designers and Landscape Technicians work together to bring your vision to life.
Our process;
1st – Free consultation to understand your needs,
preferences, and goals.
2nd – We will then create a Free custom design
3rd – Present it to you on one of our electronic devices.
No contracts, no commitments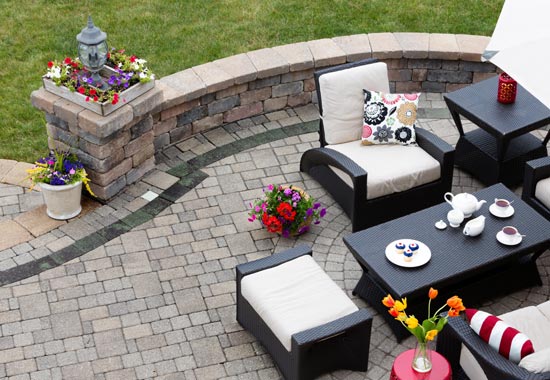 Whether you're looking for a cozy spot to relax with a good book, a space to entertain your friends and family, or a place to soak up the sun, we have the perfect solution.
Contact us today to schedule a consultation with one of our outdoor living space experts and start making the outdoor living space of your dreams!
" Call Us Today To Discuss Your Project "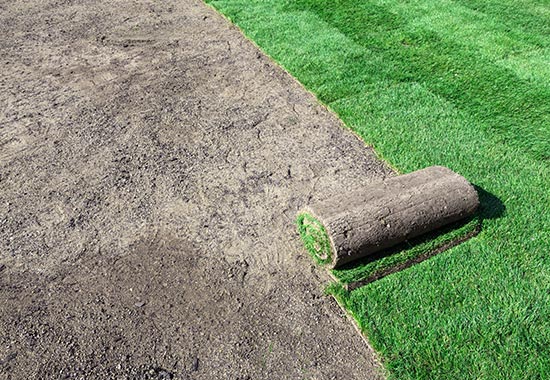 Sod provides an immediate lush green lawn, which means you can enjoy your new lawn within a few weeks after installation;
Sod lawns can be installed in a matter of days. We have Perennial Ryegrass and Tall Fescue Drought Tolerant.Is sod the right lawn for you?
Call us today to schedule an appointment!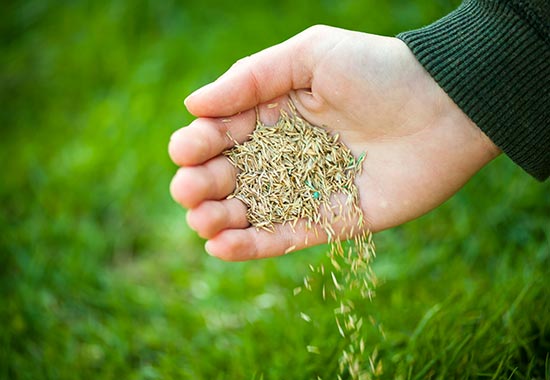 Seeded lawns offer few benefits over other types of lawns, such as sod lawns or hydro-seeded lawns.
Cost-effective: Seeding a lawn is often more cost-effective than sod and hydro-seed.
Perennial Ryegrass & Tall Fescue Seeds are Available.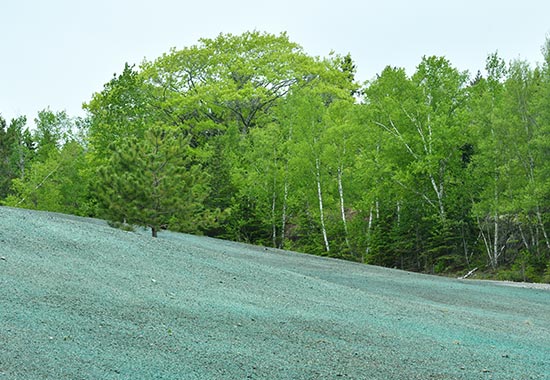 Hydroseed lawns are created by spraying a mixture of grass seed, fertilizer, mulch, and water onto the soil.
The mixture is then covered with a layer of mulch to help retain moisture and protect the seed from birds and other animals.
The mulch also helps to keep the soil temperature consistent, which allows the grass to germinate and grow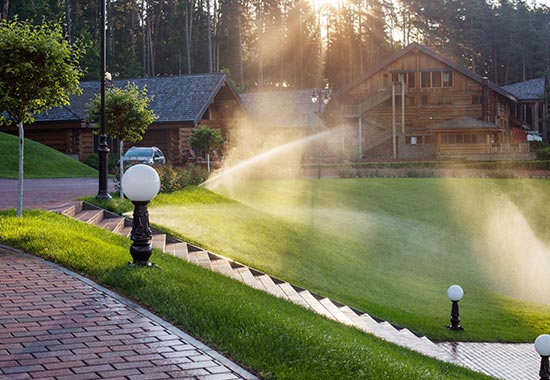 An irrigation system is designed to provide the right amount of water to grass and plants while conserving water, preventing overwatering, and saving you time and money.
Smart Irrigation Controller; Are connected to the closest weather stations near your neighborhood via Wi-Fi. Use real-time weather data to adjust the irrigation schedule based on real-time conditions, such as weather temperature, humidity, wind, and rainfall.
Call Us Today To Discuss The Details Of Your New Irrigation System.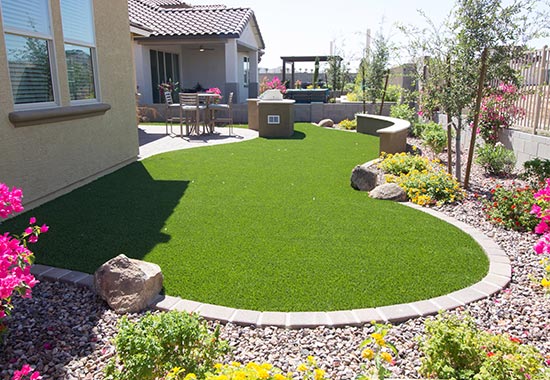 Artificial lawns are becoming increasingly popular due to the low maintenance cost and the captivating year-round look.
They are made of synthetic materials that withstand heavy use and extreme weather conditions. It won't get muddy or worn out and can last many years with proper care.
You don't have to spend money on water, fertilizer, or other maintenance costs, and you can save time and effort on lawn care.
Contact Us Today For A Free Quote And Get Free Synthetic Turf Samples.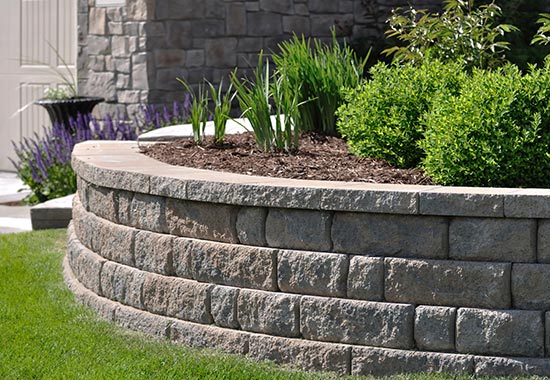 Dry stacked block retaining walls are a great way to add a decorative touch to any outdoor space.
This type of wall is used to hold back soil on a slope, create a raised garden bed, or create a terraced landscape.
Block Retaining walls can be engineered to provide a strong and stable solution for retaining soil on challenging sites where additional support is needed.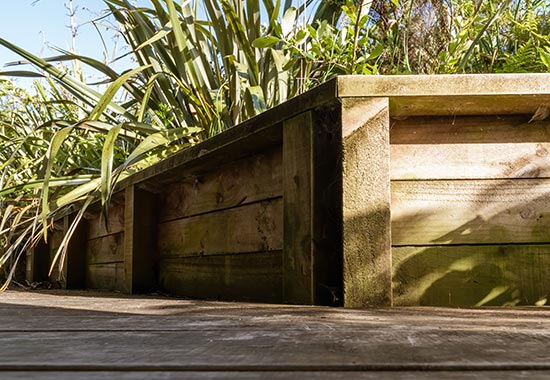 Lumber retaining walls is a great way to add structure and stability to a landscape.
They can be used to create terraces, to hold back soil on a slope, or to create a raised garden bed.
Lumber retaining walls are typically built from pressure-treated wood or cedar, resistant to rot and insect damage.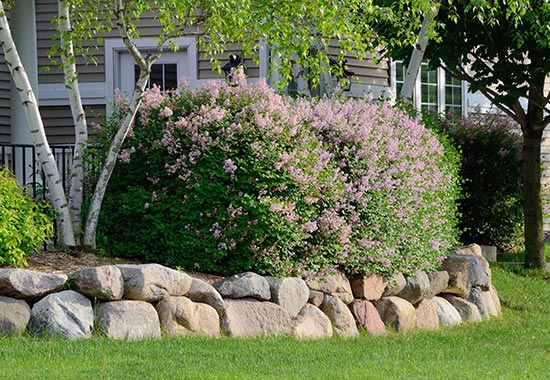 Natural rock retaining walls are a great way to add a unique and natural look at your landscape. These walls are made from natural stones and can be used to create a beautiful and durable retaining wall.
Natural rock retaining walls are a great way to add texture and interest to your landscape.
Natural stone walls can be customized to fit the style and aesthetic of any outdoor space.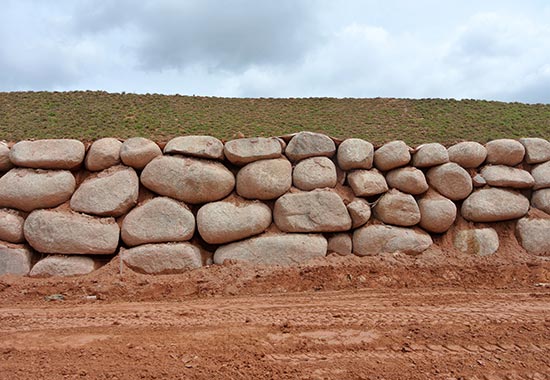 Boulders walls are typically built with large boulders on top of each other in a staggered pattern to create a solid and stable wall.
Boulders can also be used to create terraces or steps in a landscape.
These walls can create a natural-looking barrier or add visual
interest in a garden or landscape.
Boulder walls withstand the elements and provide an attractive,
rustic look that can blend in with the surrounding landscape.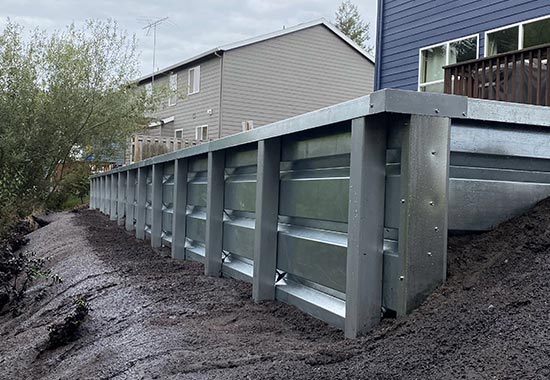 Metal retaining walls are made with formed steel. They are used in commercial and industrial applications, as well as in residential settings.
They are often used in areas with limited space and where a traditional concrete retaining wall is not feasible due to the construction difficulty or the structure's weight.
Formed metal retaining walls are relatively lightweight and can be installed quickly and easily.
Is a metal retaining wall right for your project? Call us today to get a free assessment!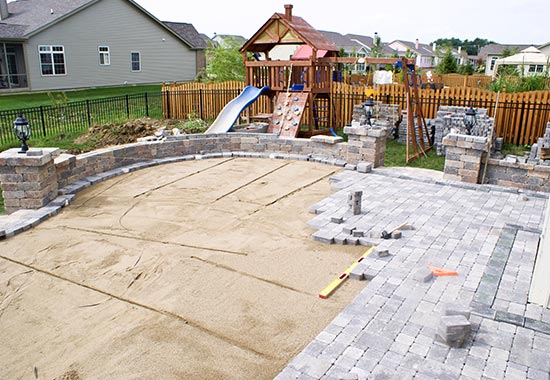 Paver patios are a well-known way to add stylish and functional outdoor living space to your home.
Pavers come in multiple shapes, sizes, colors, and textures.
Paver patios are also low maintenance and can last many years with minimal upkeep.They are also a great way to add value to your home.
Please reach out to get a free estimate & 3D Paver Patio Design.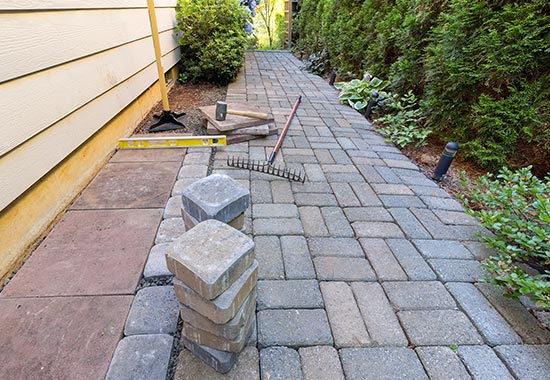 Paver sidewalks are a great way to add a unique and attractive look to your home.
Paver sidewalks are durable and can last for many years with
minimal maintenance.
They are also easy to install and can be customized to fit any space.
Paver sidewalks can create a beautiful and inviting entrance to your home or a path.
Call us today to get a Free Magazine with all the different Pavers.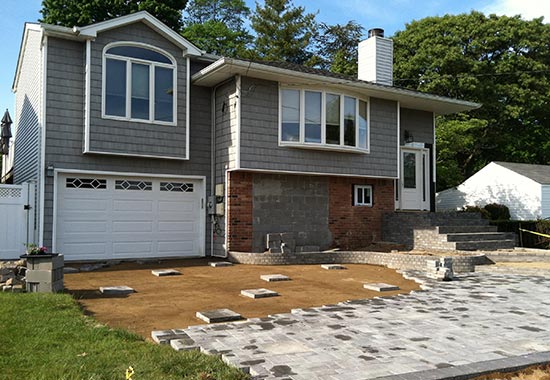 Paver driveways are popular because they are durable, easy to maintain, and aesthetically pleasing.
They can withstand heavy traffic and weather conditions, and individual pavers can be replaced if damaged.
Overall, a paver driveway can be an excellent investment in your home.

Let us do a 3D Driveway Rendering for you. Call us today!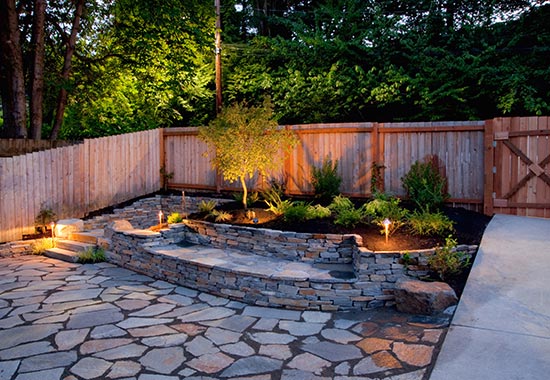 Flagstone Patios and Paths
Flagstone paths are a simple way to add a unique and beautiful look to your outdoor space. Flagstone paths are made with stones of different shapes and sizes.
They are usually laid in a pattern and can be used to create a winding or straight path.
Flagstone paths are durable and can last for many years. They are also easy to clean and maintain, making them an excellent choice for outdoor spaces. Is flagstone the right choice for your next project?
Call us today for a free consultation!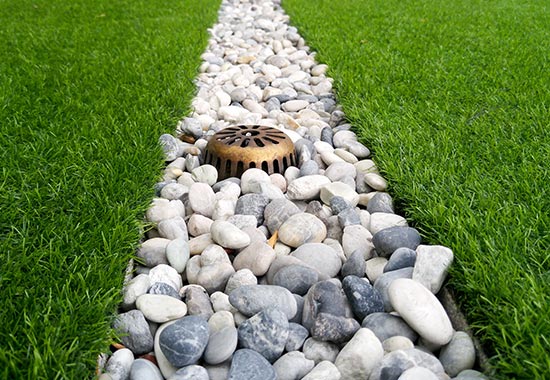 Yard drainage systems help divert water from your home and yard. These systems can be as simple as a French drain or as complex as underground pipes and catch basins.
The most common type of yard drainage system is a French drain, a trench filled with gravel, and a perforated pipe that collects and diverts water from the area.
Other yard drainage systems can include catch basins, dry wells, and underground pipes.
Call us today to get a Free drainage inspection!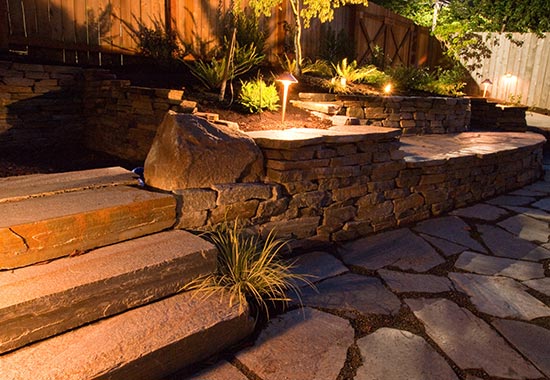 Low voltage yard lighting highlights the landscaping features such as trees, shrubs, flower beds, pathways, decks, and other outdoor areas.
Low-voltage lighting is energy-efficient and uses less electricity than traditional lighting systems. It can result in significant savings on your energy bills.
Overall, low-voltage yard lighting is an excellent choice, cost-effective, and safe lighting solution for outdoor spaces.
Call us to discuss the right low-voltage lighting for your yard!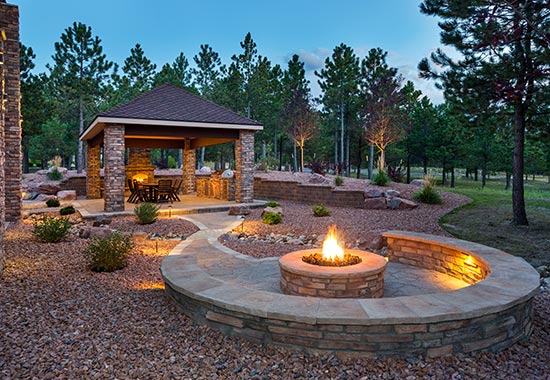 A fire pit creates a cozy and inviting atmosphere, making it an ideal spot for family and friends to gather and relax.
The warmth and light from the fire create a calming environment and make it a perfect place to unwind after a long day.
They can be great for outdoor gatherings with your loved ones and guests.
We have many options; call us today!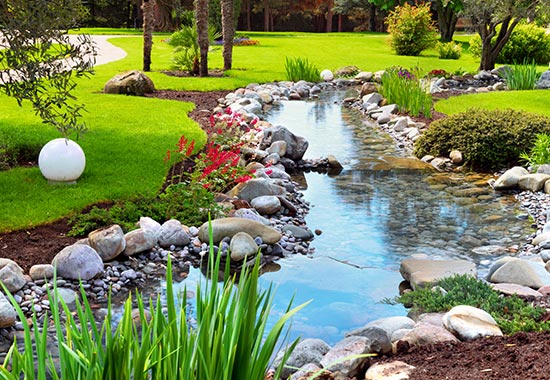 A yard water feature is a unique way to add a touch of beauty and tranquility to your outdoor space.
Many types of water features include ponds, waterfalls, and streams. Each type of water feature can be customized to fit your needs and preferences.
Whether you are looking for a simple pond to add a touch of nature to your backyard or a more elaborate waterfall to create a peaceful atmosphere, there is a water feature that will fulfill those needs.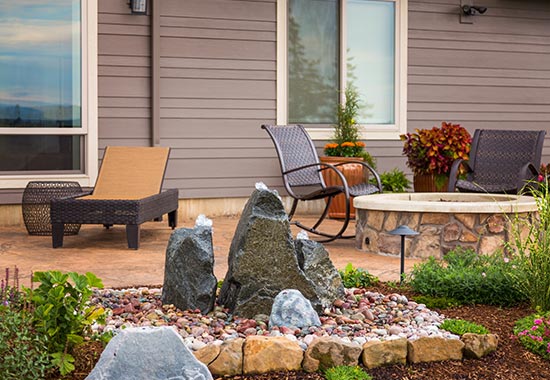 Column Rocks Water Feature
A column rocks water feature adds a beautiful and natural element to any outdoor space. They are a focal point or centerpiece of a landscape.
The sound of running water can be calming and soothing, providing a peaceful ambiance that can help you relax and de-stress.
A well-designed water feature column rock can increase the value of your property and make it more appealing to potential buyers.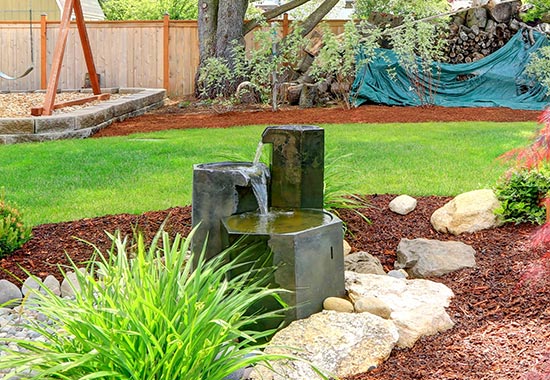 Bubbler Rocks Water Feature
Bubbler rock water features are relatively simple and easy to install, making them an excellent choice for those who want a low-maintenance water feature.
Small bubbler rock water features are less expensive than larger water feature column rocks, making them a more cost-effective option for those on a budget.
Bubbler rock water features produce a more noticeable and constant bubbling sound, which can create a lively and energizing atmosphere.
Call us today to get a free quote.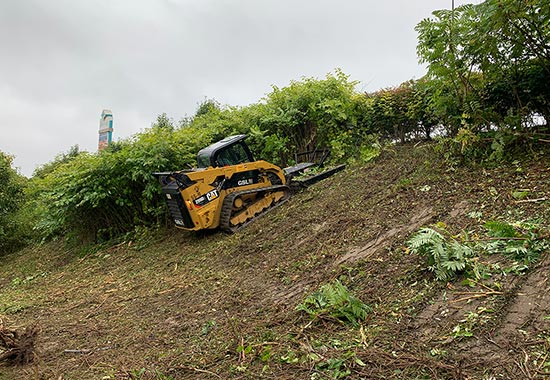 Brush clearing can improve the visual appeal of a property or landscape by removing overgrown or unsightly vegetation.
Clearing brush can make it easier to access a particular site, whether for recreation or other purposes.
Removing vegetation can create paths and trails that were previously inaccessible.
Brush clearing can have many benefits, including improving safety, preventing fires, and increasing access.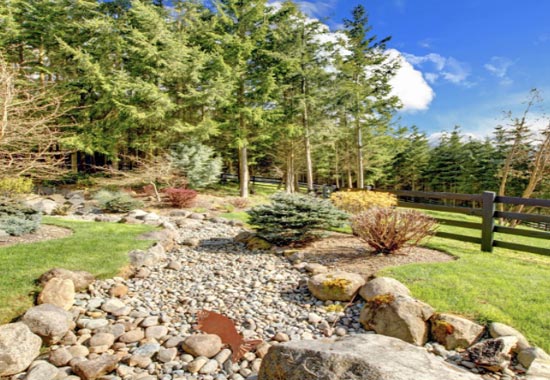 A dry creek bed is designed to look like a natural creek. It's made with accent boulders and round river rocks of different sizes.
A dry creek can add visual interest and natural beauty to a landscape, particularly in areas with little natural water flow.
Unlike a traditional water feature, a dry creek requires little maintenance beyond occasional raking or cleaning of debris. Schedule an appointment today
25 year of experience at your services!
Our vision is to create beautiful and sustainable outdoor spaces that enrich people's lives and positively impact the environment.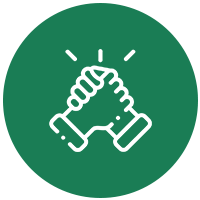 Great Team Work
Greenway scapes offer tailored solutions to meet the needs of your unique outdoor living space, every season of the year, no matter where you live.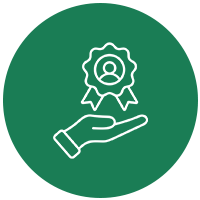 High-Quality Service
We have a team of highly skilled and dedicated professionals passionate about creating beautiful outdoor space for our clients.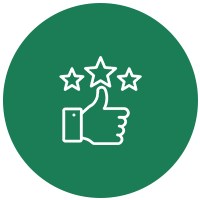 Customer Satisfaction
Greenway scapes assure you that we will gladly visit your property as needed between scheduled visits to ensure your satisfaction.
Greenway Scapes has been incredible!! I have used them multiple times over the past 6 years to complete sections of my property. They are prompt in their responses, the employees take great pride in making things absolutely perfect, and they always go above and beyond the project I paid for. The stone work is amazing! I am constantly getting compliments from neighbors and people who pass our house. If you want a great looking yard for a great price and high quality work, choose Greenway!
We hired Greenway a couple of years ago to put in a large stone patio. We were so pleased with the excellent masonry job that we recently hired them again to add a stone planter. They also installed an irrigation system in the grassy area of the backyard. We are extremely satisfied and the beautiful patio has received so many compliments from guests. We enjoy it every day, year round. We highly recommend Greenway for quality, value, and professionalism! The photos show Before and After. Any negative reviews seem questionable and were not our experience at all. They did a fantastic job on time and we're a pleasure to work with!
We've used Greenway Scapes for our landscape service for more than three years. They do a fabulous job. They always show up promptly for work, are very professional and respectful. I recommend them all the time.
We have hired Greenway Scapes a number of times and have always been very satisfied with their work. Recently they built a set of steps into a hillside for us; the final result exceeded our expectations! Their crew are the hardest working fellows, and they are very polite and professional. I no longer bother getting other bids because I know that I will always be pleased with their work!
I moved into a brand new constructed home in Dallas Oregon, and I had nothing but dirt in the back yard. The back yard was uneven and was a mess. I called Greenway Scapes and they responded immediately. The drew up a contract with the specifications that I needed and immediately went to work. Greenway leveled my backyard, placed some rocks where I requested, provided Top soil, and laid sod as per my request. They did a "great job" and I was completely satisfied. I HIGHLY RECOMMEND Greenway Scapes.
Recently had Greenway Scapes do a complete backyard remodel including retaining, grading, backfill, patio prep, hardscapes, sprinkler system, sod and a firepit area. Got their name from my GC who recently finished my home remodel and does a lot of new construction, he said they're the only company he uses for landscaping.
Greenway Scapes was a great price, completed the work quickly and we're great to work with. I wanted a simple landscape installation for new construction and they provided exactly what I needed.
We're very pleased that we chose Greenway to do our landscaping. Besides having a quote that was fair, they were here the day after we signed the contract. A large crew came to add soil, level the ground, seed it with grass and put in the irrigation. They did it all in a day and a half with city inspectors signing off on their hookup also. We can't be more pleased with the final outcome. The crew was polite, hard working and professional. We would certainly use them again!
We had a new home built and chose to use Greenway per other neighbors' recommendation. We are thankful we did; they not only did our pavers outdoor living area, but they did all the landscaping for the new build. The owner listened to all my wishes on what we wanted, and they executed it perfectly. He was so kind and professional and has pride in his work and product..
Greenway Scapes completed another incredible yard project for us. It was the second one we've had them do, and if there is ever another project, we will hire them again. They removed 65 linear feet of tall, old arborvitae trees and built a beautiful new fence and yard in their place.
Greenway Scapes is our top choice for landscapers. They provide excellent value at reasonable prices. At our construction company, we have worked with Greenway Scapes on more than 7 projects, and we will continue to schedule them on upcoming jobs. Their work is always professional, beautiful, and complements our new homes. We love working with them.