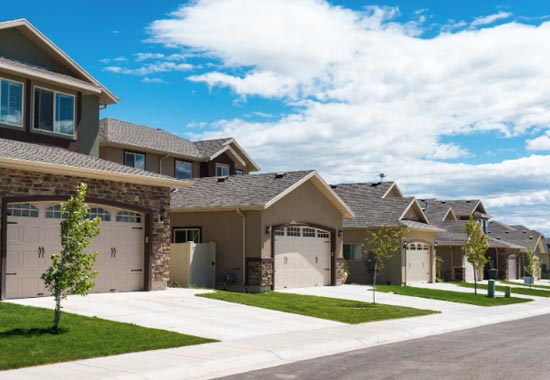 The landscaping is an essential aspect of any dwellings, as it can enhance the beauty and functionality of outdoor spaces.
A well-designed landscape can significantly improve the home's curb appeal and can add value to a home.
We can create a beautiful outdoor space to fit your lifestyle, needs, and budget.
Call us to schedule an appointment and discuss the details of your new landscape.
Get a Free 3D Landscape Rendering.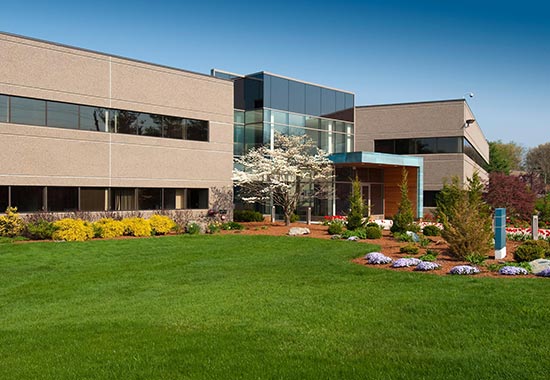 commercial landscape construction
At Greenway, we specialize in handling complex commercial landscape construction projects in collaboration with reputable landscape architecture firms. With years of experience and expertise in the industry, Greenway has established itself as a trusted partner for clients who seek high-quality and innovative solutions for their landscaping needs.
Our team of qualified crew, consisting of skilled craftsmen and project managers, brings their expertise and passion to every project, ensuring that the final result exceeds our client's expectations.
Commercial Landscape Construction requires excellent planning and coordination between the landscape architect, the contractor, and the property owner.
We provide a seamless and collaborative experience for our clients, ensuring that their vision for their landscape is realized in a timely and cost-effective manner.
At Greenway, we take pride in our reputation for excellence and look forward to partnering with you on your next commercial landscape construction project.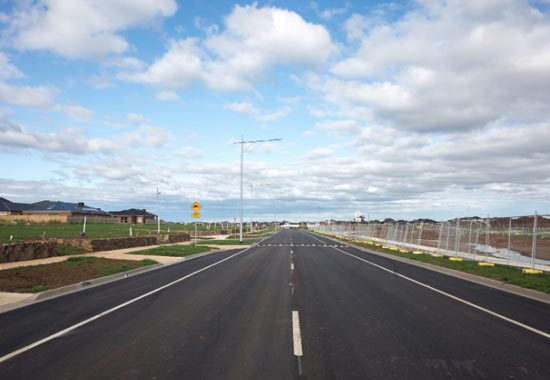 Landscape Street Developments
Landscape street developments involve using landscaping techniques to improve the look and feel of a street. This can include planting trees, shrubs, and flowers, installing benches and other seating, and adding decorative elements.
It can also involve the installation of additional infrastructure improvements. These improvements can create a more inviting and attractive environment for pedestrians and cyclists and provide a more pleasant and safe environment.
Every project is an opportunity to impact people's lives positively. That's why we go above and beyond to ensure our developments are beautiful but also functional, practical, and environmentally conscious.
A successful project not only meets but exceeds our client's expectations. That's why we are committed to providing exceptional customer service.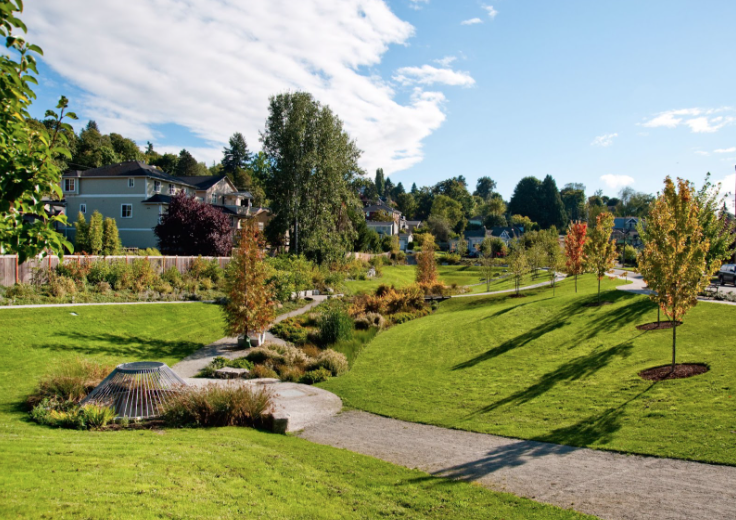 The landscape in a neighborhood park is designed to provide a variety of recreational activities for people of all ages. Depending on the park's size, the landscape can include a playground, walking paths, picnic areas, benches, and other amenities.
The landscape should also be designed to provide visitors with a safe and enjoyable environment. Plantings can create a natural environment and provide shade and privacy.
We have extensive experience building parks and public spaces and have a proven track record of delivering high-quality projects on time and within budget.
Our team of construction professionals is highly skilled and experienced, and we have the resources and expertise to handle all aspects of the construction process.
Feel free to reach out for your next Neighborhood Park, and we will be more than happy to get you a free quote.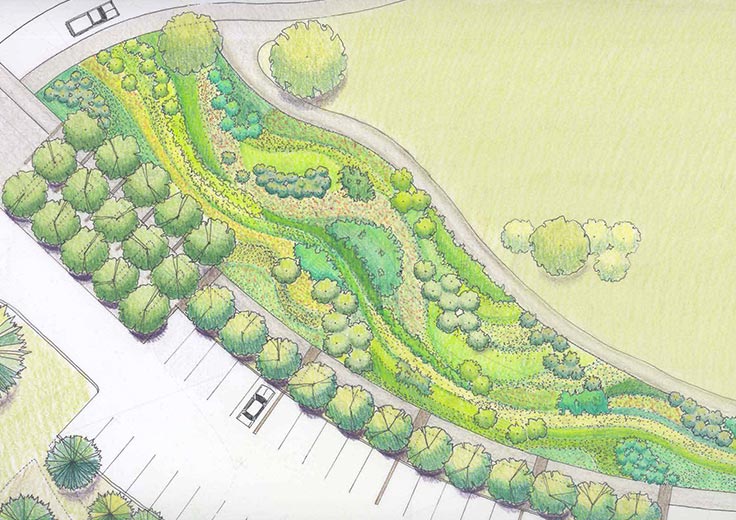 Stormwater planters are a type of landscaping feature designed to capture and filter stormwater runoff. They are typically planted with native vegetation adapted to the local climate and soil conditions.
The plants help absorb and filter pollutants from the runoff, reducing the contaminants that enter local waterways. Stormwater planters can also help reduce flooding by slowing the flow of runoff and allowing it to infiltrate the soil.
We have a team of experienced professionals who specialize in installing stormwater planters. We deeply understand the best practices in stormwater management, and we can ensure that your planter is installed correctly, to the city or county standards, and performs effectively.
Establishing a stormwater planter is a collaborative process. We work closely with our clients and local government agencies to ensure that the planter meets their standards
25 year of experience at your services!
Our vision is to create beautiful and sustainable outdoor spaces that enrich people's lives and positively impact the environment.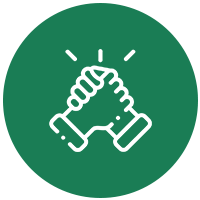 Great Team Work
Greenway scapes offer tailored solutions to meet the needs of your unique outdoor living space, every season of the year, no matter where you live.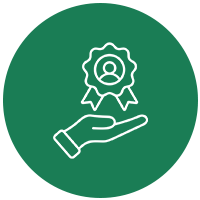 High-Quality Service
We have a team of highly skilled and dedicated professionals passionate about creating beautiful outdoor space for our clients.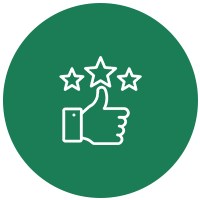 Customer Satisfaction
Greenway scapes assure you that we will gladly visit your property as needed between scheduled visits to ensure your satisfaction.
Greenway Scapes has been incredible!! I have used them multiple times over the past 6 years to complete sections of my property. They are prompt in their responses, the employees take great pride in making things absolutely perfect, and they always go above and beyond the project I paid for. The stone work is amazing! I am constantly getting compliments from neighbors and people who pass our house. If you want a great looking yard for a great price and high quality work, choose Greenway!
We hired Greenway a couple of years ago to put in a large stone patio. We were so pleased with the excellent masonry job that we recently hired them again to add a stone planter. They also installed an irrigation system in the grassy area of the backyard. We are extremely satisfied and the beautiful patio has received so many compliments from guests. We enjoy it every day, year round. We highly recommend Greenway for quality, value, and professionalism! The photos show Before and After. Any negative reviews seem questionable and were not our experience at all. They did a fantastic job on time and we're a pleasure to work with!
We've used Greenway Scapes for our landscape service for more than three years. They do a fabulous job. They always show up promptly for work, are very professional and respectful. I recommend them all the time.
We have hired Greenway Scapes a number of times and have always been very satisfied with their work. Recently they built a set of steps into a hillside for us; the final result exceeded our expectations! Their crew are the hardest working fellows, and they are very polite and professional. I no longer bother getting other bids because I know that I will always be pleased with their work!
I moved into a brand new constructed home in Dallas Oregon, and I had nothing but dirt in the back yard. The back yard was uneven and was a mess. I called Greenway Scapes and they responded immediately. The drew up a contract with the specifications that I needed and immediately went to work. Greenway leveled my backyard, placed some rocks where I requested, provided Top soil, and laid sod as per my request. They did a "great job" and I was completely satisfied. I HIGHLY RECOMMEND Greenway Scapes.
Recently had Greenway Scapes do a complete backyard remodel including retaining, grading, backfill, patio prep, hardscapes, sprinkler system, sod and a firepit area. Got their name from my GC who recently finished my home remodel and does a lot of new construction, he said they're the only company he uses for landscaping.
Greenway Scapes was a great price, completed the work quickly and we're great to work with. I wanted a simple landscape installation for new construction and they provided exactly what I needed.
We're very pleased that we chose Greenway to do our landscaping. Besides having a quote that was fair, they were here the day after we signed the contract. A large crew came to add soil, level the ground, seed it with grass and put in the irrigation. They did it all in a day and a half with city inspectors signing off on their hookup also. We can't be more pleased with the final outcome. The crew was polite, hard working and professional. We would certainly use them again!
We had a new home built and chose to use Greenway per other neighbors' recommendation. We are thankful we did; they not only did our pavers outdoor living area, but they did all the landscaping for the new build. The owner listened to all my wishes on what we wanted, and they executed it perfectly. He was so kind and professional and has pride in his work and product..
Greenway Scapes completed another incredible yard project for us. It was the second one we've had them do, and if there is ever another project, we will hire them again. They removed 65 linear feet of tall, old arborvitae trees and built a beautiful new fence and yard in their place.
Greenway Scapes is our top choice for landscapers. They provide excellent value at reasonable prices. At our construction company, we have worked with Greenway Scapes on more than 7 projects, and we will continue to schedule them on upcoming jobs. Their work is always professional, beautiful, and complements our new homes. We love working with them.